THE ICONIC TRACKLETICS™ BRAND COLLECTION
The Trackletics Logo: A Global Icon
The Trackletics logo is instantly recognizable around the world, with over 60,000 athletes supporting us on social media. But our logo is more than just a symbol of our brand – it represents the dedication and commitment of Track & Field family.
With this collection, we invite you to join us in supporting our mission.
Each piece is designed to showcase the iconic Trackletics logo, so you can show your love for the sport and our brand in style.
Shop Trackletics Sportswear
---
Stream Trackletics Live
Introducing Trackletics Live! Hosted by Track and Field Athlete Samar Anderson, Trackletics Live brings you exclusive insights about your favorites in Track & Field athletes.

Each episode of Trackletics Live features interviews with top athletes, coaches, nutritionists, sports performance specialists, sports psychologists, and more. You'll get insider tips, advice, and training techniques straight from the experts. With exclusive access to the world's most renowned track and field figures, you won't find this level of insight anywhere else.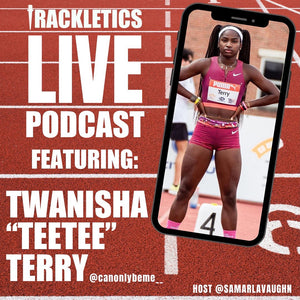 Trackletics Live Episode #07 "Shock the World" Featuring Twanisha Tee Tee Terry
Introducing Trackletics Live - the ultimate interactive show for all things track and field! Join our host, Samar La Vaughn, as he interviews top athletes, coaches, nutritionists, sports performance specialists, sports psychologists, and more.
On this episode of Trackletics Live, we had the pleasure of speaking with Twanisha "Tee Tee" Terry about her inspiring track story, goals, and plans for the future.
As a top performer in the 100 and 200 meter dash, she's making waves in the track and field community! Tune in to hear her insights and experiences firsthand.
Watch Now
TRACKLETICS PRESENTS: MT Sac Cross Country Road to State
The Mt SAC Cross Country teams have been on a tear in the post season. Both teams won the conference team title in dominant fashion. The ladies then took the SoCal Championship team title for the second year in a row and the men placed 2nd respectively. The 2022 state meet is this last stop in the journey. The Mt SAC Women look to defend their State title from last year, while Mountie Men look to improve from their Runner-up performance from last season.
Become a Sponsored Athlete
Are you a passionate and dedicated track and field athlete looking for a way to take your career to the next level? Do you want to be a part of a brand that truly embodies the spirit of track and field and supports athletes every step of the way? Then Join the Trackletics Ambassador Program!
As a brand that is committed to supporting the track and field community, we are excited to announce our brand ambassador campaign.
We are looking for a select group of athletes who are dedicated to their craft and want to represent the Trackletics brand on and off the track.
What does being a Trackletics brand ambassador entail? It means you will be part of a community of like-minded athletes who share your passion for track and field. You will have the opportunity to represent the brand at events, share your experiences with our audience, and receive exclusive access to new products and promotions.