Stream Trackletics Live
Introducing Trackletics Live! Hosted by Track and Field Athlete Samar Anderson, Trackletics Live brings you exclusive insights about your favorites in Track & Field athletes.

Each episode of Trackletics Live features interviews with top athletes, coaches, nutritionists, sports performance specialists, sports psychologists, and more. You'll get insider tips, advice, and training techniques straight from the experts. With exclusive access to the world's most renowned track and field figures, you won't find this level of insight anywhere else.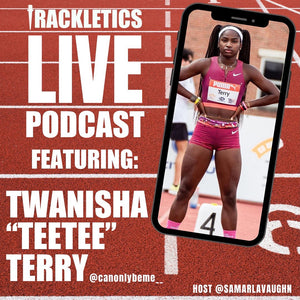 Trackletics Live Episode #07 "Shock the World" Featuring Twanisha Tee Tee Terry
On this episode of Trackletics Live, we had the pleasure of speaking with Twanisha "Tee Tee" Terry about her inspiring track story, goals, and plans for the future.
As a top performer in the 100 and 200 meter dash, she's making waves in the track and field community! Tune in to hear her insights and experiences firsthand.
TRACKLETICS PRESENTS: MT Sac XC Road to State
The Mt SAC Cross Country teams have been on a tear in the post season. Both teams won the conference team title in dominant fashion.

The ladies then took the SoCal Championship team title for the second year in a row and the men placed 2nd respectively.

The 2022 state meet is this last stop in the journey.

The Mt SAC Women look to defend their State title from last year, while Mountie Men look to improve from their Runner-up performance from last season.